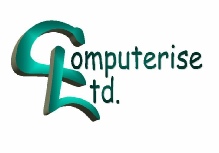 Providing quality IT managed services and
technical support to commerce and industry

Computerise Limited is registered in England & Wales
Registration number 3391510


View our privacy policy
Copyright © 2018 Computerise Ltd


Hemel Hempstead
01442 256300
Computerise have been providing IT services to businesses for over 20 years and have a dynamic
team of dedicated professionals with extensive knowledge and skills.
Our customers stay with us for many years and we pride ourselves on developing an unrivalled level of
trust and friendship with all our customers and their workforce. Our Business Services include
• Workstation and Laptop repairs and upgrades
• Server installations and upgrades (including Linux)
• Network design and Firewall installation
• Cloud services using our own UK based servers
• Broadband and Lease Line supply
• 3CX PBX IP Telephone system and VOIP reseller
• Hosting services: Exchange and SQL
• System health checks and consultancy
• IT Support contracts
• Hardware and Software supply
• Watchguard Security Device reselller
Maintenance Contracts and IT Support
In addition to our extensive individual services, our core business is providing bespoke maintenance agreements to fit your needs and budget. From basic server and workstation support right through to full networking, hosting, broadband and consultancy packages, the choice is yours and we will work closely with you to give you the best, most secure and cost-effective solution for your business.
Up to 90% of our IT support can be provided remotely which means we can fix many of your problems very quickly, without you having to wait for an engineer to visit.
Contact
01442 256300
info@computerise.co.uk